Halloween activities for children with autism (Guest post)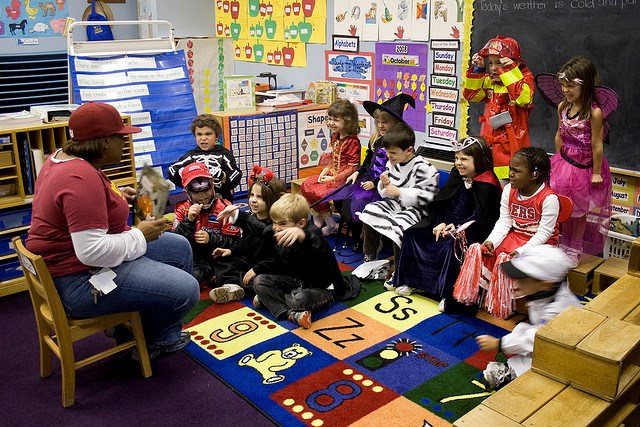 As proud sponsors of the National Autistic Society, we are pleased to bring you these fantastic ideas for Halloween activities for children on the autism spectrum. These brilliant ideas come courtesy of Corinna Laurie, Lead Occupational Therapist and Emily Trapp, Specialist Speech and Language Therapist from Helen Allison School.
Occupational Therapy Ideas
Face Painting, loud noises, scary characters and scratchy costumes aren't for everyone, and can be especially unpleasant for children with autism. Here are some ideas for Halloween activities that are enjoyable for everyone.
T-Shirt decorating: Many children with autism have sensory sensitivities around clothing. Halloween costumes can be scratchy and overwhelming. As a class project why not decorate a comfy T-shirt with a Halloween theme. They are then still being festive, without being uncomfortable.
Pumpkin carving: A great Halloween activity but some children with autism may find the mess very "uncomfortable". Allow students to wear plastic gloves when scooping. Light up with battery candles for a visual delight! Use the innards as a sensory goo bag by placing it in a zip lock bag and letting kids squash away!
Dancing worms: Mix together baking soda, vinegar and warm water and add jellied sweet worms. Watch them dance and swirl around
Party time!
Hold a Halloween party for school friends. Many Children will find trick or treating to daunting and so a class party will offer another opportunity to celebrate. In preparation students could bake and decorate cakes, make and distribute invitations, think of games to play e.g.
Mystery box
Halloween game – fill bowls with noodles, jelly, cooked pasta etc. and see who guesses the most correct. If students have sensitivity to certain textures use dry pasta, animal shapes (bats and rats!), real objects (fangs and skulls!) etc.
Frankenstein/Ghost Bowling (helps with co-ordination)
Paint faces/put eyes on cans/toilet rolls, and then stack the scary (okay, more like cute) dudes to see how many you knock down in one shot.
Spider Races (blowing is calming)
All you need for this game is some straws and plastic toy spiders — whichever kid blows their spider across the finish line first wins.
Speech and Language Therapy Ideas
Scary pumpkins/ghosts
Targets: Following instructions/ attention and listening skills/ giving instructions
Give each pupil a body template (e.g. in the form of a pumpkin or ghost). Have several versions of different features e.g. sharp teeth, gold teeth, long teeth. Give pupils instructions for what they should add and see if they can follow the instructions accurately. Reverse roles and see if they can give you instructions. Can they spot your funny mistakes you make?
Costumes
Targets: Understanding and expressing adjectives
Take a picture of pupils in their fancy dress outfits, or use a picture of a scary character. Annotate the picture with lots of describing words. Or write them on post it notes and stick them on the outfits.
Slime
Targets: Joint attention, following instructions, vocabulary
Make slime together. Explore it together and talk about how it feels and looks e.g. wet, squidgy. For more able pupils they could follow the instructions on how to make it.
Halloween jokes
Targets: Non-literal comprehension (double meanings), interacting with peers
Find some suitable Halloween jokes for your class and explore them further before asking the group to adapt them or come up with their own.
Halloween Bingo
Targets: Vocabulary, attention and listening skills
Substitute a traditional bingo card with a Halloween themed one and get the class involved in this fantastic and fun Halloween activity.
Visual supports – anxieties and stranger awareness
Targets: Anxiety
For pupils who are anxious about costumes etc- visually explore the fact that there are familiar people underneath. Use symbols and pictures to demonstrate this point or any other fears.
Explore the importance of stranger danger e.g. people will knock on the door in outfits, don't knock on stranger's doors without a parent etc
Are you looking for SEND staff or work?
If you're looking for a SEND teaching or support job in England or Wales, why not register with Axcis, the SEND recruitment specialists? Or perhaps you need to recruit staff for your school or provision? If so, why not take a look at the Axcis Website, or get in touch today to find out how we can help?