Top 5 Anger Management Books for Children, Parents and Carers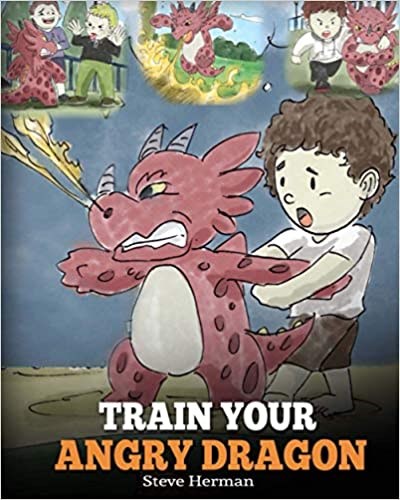 Do you have a child at home or school who tends to "flare up" easily? I do! But how can we help them to learn how to manage their anger effectively? Here are some fantastic books which could help.
There's a Volcano in My Tummy!
Written by Elaine Whitehouse and Warwick Pudney
A Volcano in My Tummy: Helping Children to Handle Anger presents a clear and effective approach to helping children and adults alike understand and deal constructively with children's anger. Using easy to understand yet rarely taught skills for anger management, including how to teach communication of emotions, A Volcano in My Tummy offers engaging, well-organized activities which help to overcome the fear of children's anger which many adult care-givers experience. By carefully distinguishing between anger the feeling, and violence the behavior, this accessible little book, primarily created for ages 6 to thirteen, helps to create an awareness of anger, enabling children to relate creatively and harmoniously at critical stages in their development.
Through activities, stories, articles, and games designed to allow a multi-subject, developmental approach to the topic at home and in school, A Volcano in My Tummy gives us the tools we need to put aside our problems with this all-too-often destructive emotion, and to have fun while we're at it.
Anger Management Workbook for Kids: 50 Fun Activities to Help Children Stay Calm and Make Better Choices When They Feel Mad
By Samantha Snowden Ma (Author), Andrew Hill PhD (Foreword)
The Anger Management Workbook for Kids offers kid-friendly exercises and interactive activities to feel happier, calmer, and take control of anger.
Everyone gets angry, but teaching kids how to respond to anger is what really matters. The Anger Management Workbook for Kids offers fun, interactive activities to help kids handle powerful emotions for a lifetime of healthy behavioral choices.
From drawing a picture of what anger looks like to building a vocabulary for communicating feelings, the activities in this workbook give kids ages 6-12 the skills to understand and talk about anger habits and triggers. With this foundation, kids will learn positive and proactive strategies to deal with anger through gratitude, friendliness, and self-kindness.
At home, school, or with friends, the Anger Management Workbook for Kids equips kids to take control of anger, with:
A close look at anger that helps kids and parents identify habits and triggers, and recognize how anger feels to them.
Interactive exercises that provide a fun format for learning how to communicate feelings, needs, and wants to take control of angry outbursts.
Feel-good habits that help kids develop better responses to anger by cultivating self-kindness, joy, and appreciation.
Anger is a regular emotion just like joy, sadness, and fear–but sometimes anger acts bossy. Give your kids to the power to say STOP to anger with the Anger Management Workbook for Kids.
Train your angry dragon
By Steve Herman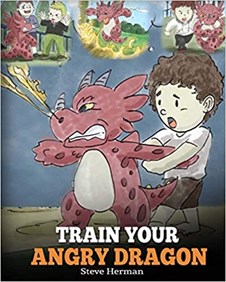 Having a pet dragon is very fun.
But what do you do if he gets angry or upset? What do you do when your dragon lost his cool and wants to burn everything to the ground?
Get this book and learn how to train your angry dragon!
A must have book for children and parents to teach kids about emotions and anger management.
Fun, cute and entertaining with beautiful illustrations, this playful book will teach kids how to handle when things don't go their way.
Starving the Anger Gremlin for Children Aged 5-9: A CBT Workbook on Anger Management
By Kate Collins-Donnelly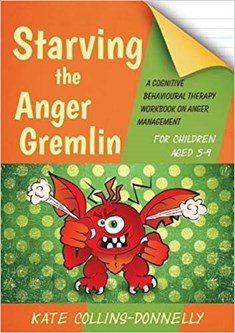 The Anger Gremlin is a naughty creature and his favourite food is your anger! The more anger you feed him, the bigger and bigger he gets and the angrier and angrier you feel! How can you stop this? Starve the Anger Gremlin of angry thoughts, feelings and behaviours, and watch him disappear!
Based on cognitive behavioural principles, this workbook uses fun and engaging activities to teach children how to manage their anger by changing how they think and act – getting rid of their Anger Gremlins for good! Packed full of stories, puzzles, quizzes, and colouring, drawing and writing games, this is an excellent resource for parents or practitioners to use with children aged 5 to 9 years.
The Anger Workbook For Teens: Activities to Help You Deal With Anger and Frustration
By Raychelle Lohmann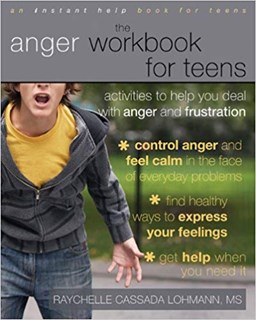 The Anger Workbook for Teens offers a step-by-step approach to helping teens who need to control their anger. This workbook is designed to help teens learn about their anger, understand how anger affects their lives, and learn constructive communication skills to help express their feelings. Readers work through a series of exercises and worksheets to explore why they react the way they do, then learn skills and techniques to help them get their anger under control. They will assess their anger to develop a personal anger profile and learn to notice the physical symptoms they feel when they become enraged. Once readers fully understand their anger, they will be better able to target their symptoms in the moment and put new anger management strategies, such as relaxation techniques and active listening, into practice.
Are you looking for SEND staff or work?
If you're looking for a SEND teaching or support job in England or Wales, why not register with Axcis, the SEND recruitment specialists? Or perhaps you need to recruit staff for your school or provision? If so, why not take a look at the Axcis Website, or get in touch today to find out how we can help?