Using symbols to reinforce learning in the home environment (guest post)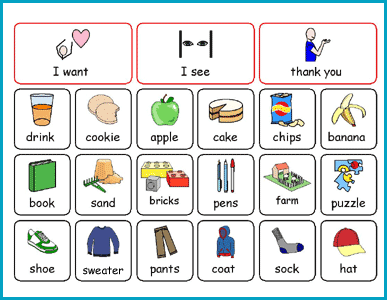 This guest post is kindly provided by Sarah Lachlann-Dean. She is a chartered teacher and communication lead at Woodlands High school in Cardiff. In this article, Sarah explores the value of using a range of communication tools, and has also provided us with a fantastic visual communication book which has been made available for families to download and use completely free of charge.
At the moment I am a stay at home Mum with a new baby, and was temporarily home schooling my older daughter due to the COVID-19 outbreak. I am so lucky to know the curriculum, where she is in relation to it and be able to get on with introducing the next steps. If I has suddenly found myself responsible for her health or something without professional support I would have been at a loss, and reliant on Google, so I wanted to share something I find very useful in my own setting, a special needs classroom, working with learners with significant communication difficulties.
I use a total communication approach, which in simple terms means using everything to give learners maximum opportunity to communicate. I use clear speech, PECS, sign, photographs, real objects and symbols every day. One of the things my pupils gravitate towards most are the simple symbols, and they can be an effective tool for receptive as sell as expressive communication.
When I left my last school to go on maternity leave, I gave all the children a 'home' communication book, with the symbols they may need to ask for days out, identify rooms in the house, help with cooking etc. It also had symbols such as colours, numbers and vocabulary we were working on in school like big and small.
I use symbols such a lot, I subscribe to widgitonline.com, as it is so much faster and means all my work is stored remotely. The team at widgit have very kindly given me permission to share this resource for free.
Download the visual communication book – click here
I hope you find it useful, and here are some ideas for how I would use it.
Core vocab: A simple page which gives pupils opportunity to ask for things lime drinks, toilet etc. I know, as a parent you just know what they need, but this is all about supporting them to tell you using their 'voice' because if they can tell you they are well on their way to telling other people what they want and need and increasing control of the world around them.
Places: Ok, so some of these places are currently no-go, but you may be living with a child who goes to the cinema every week at the same time with a personal assistant and its suddenly cancelled. They may be able to use the symbol to ask if they can go, and we can redirect them to the living room for TV film, not the same, no, but could potentially save some distress.
Hobbies and Activities: Some of the most used and loved symbols in class. Often it is 'work first then choosing' and pupils can decide what they would like to do next. Again, your child might be able to access everything they need, but it may be worth limiting that free access to support them to learn to request. Its all about promoting independence and being able to ask for something you want or need which you can't see is fundamental to this.
Body: Important for learners to be able to tell people if they are ill or in pain, or even if they are just uncomfortable. Parts of the body is a key bank of vocabulary. They may point to a body part and you can show on the page and say the word clearly. After all there are some parts of the body we would rather not be pointing at to communicate, as my daughter demonstrated last week when she injured her middle finger.
People and Animals: Great for identifying people and animals in books, stories and songs, and developing 'I see' sentences in pictures and out on walks.
Actions: Can be used to request, or comment. This page is particularly useful for learners needing to move beyond using one word, so rather than using 'boy', they may be able to extend to 'boy dancing' or 'duck' to 'duck swimming' etc.
Cooking: A useful page if your child is a budding chef, or just needs to work on independent living skills. A mixture of cooking related vocab including actions as well as equipment, to support understanding of instructions.
Colours and pattern: Good for teaching patterns and sequencing in maths but also good for getting creative with some arts and crafts and talking about what you are doing. Also good for working on properties, e.g. 'red triangle', 'green square'
Number: This is actually number and mathematical concepts, these parts of language are so tricky for our learners, especially as they are so subjective. Is it big? In comparison to a button yes, in comparison to a bus, not really. The only way to understand how these woks in to keep using them in lots of different contexts, playing with sand, water, cooking, painting, in fact most activities!
Textures: Can be used in crafts, reading sensory books or even to request sensory activities.
Food- Lots of Foods: Suitable for requesting, cooking activities, and un normal circumstances shopping. If your child is an emergent writer these are also useful for copying writing to make a shopping list.
Personal care: Can be kept in the book or laminated and put on the wall in the bathroom, and the kitchen, everywhere at the moment. I thought twice about including this, as I knew families would have their own ways of supporting hygiene, but now I'm glad I did.
Clothes: Vocabulary building, can be used for real clothes or in books, 'what is she wearing?' seems strange buta good way to develop the vocabulary or extend sentences. 'girl' – 'girl wellies'- 'girl red wellies'- 'girl red spotty wellies' etc.
Feelings: Most pupils I have taught will just say happy if you ask how they are, this vocabulary is just so difficult, especially for children and young people on the autistic spectrum who also have learning difficulties. I recommend using these to describe what is happening in books first and modelling before using it to ask questions.
Stories: Most importantly just enjoy and if you need a break all these stories have retellings on YouTube so you can have a cup of tea!
Sarah Lachlann-Dean
Sarah's Twitter handle is @SarahLachlann should you wish to get in touch to discuss anything SEND with her, or thank her for this wonderful resource.