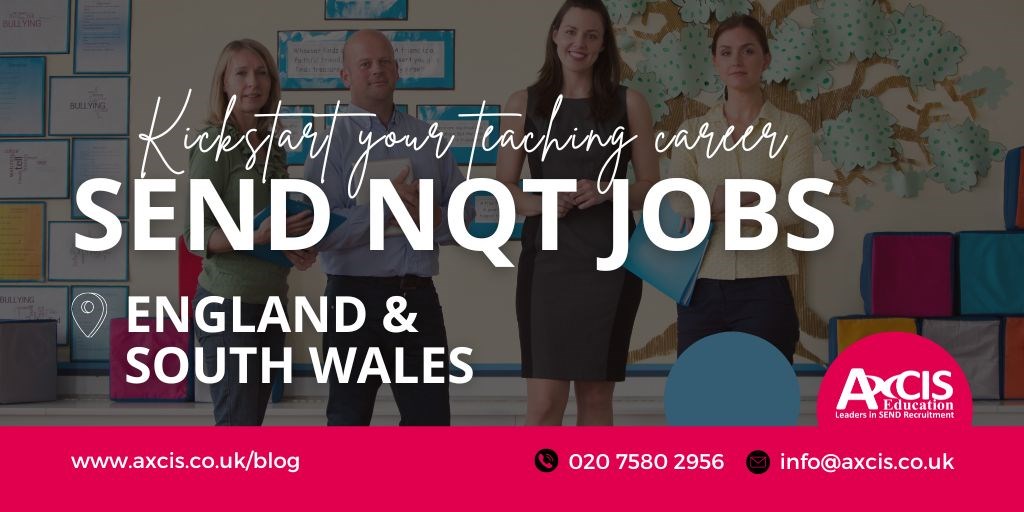 Are you a NQT (Newly Qualified Teacher) looking for a SEND teaching job? Find out how Axcis can help you!
Who are Axcis Education?
Axcis are the leading company specialising purely in special educational needs and disabilities (SEND) recruitment. With over a decade of experience in the industry, Axcis have a team of dedicated consultants – many of whom come from a SEND background themselves – who can help you to find SEND teaching jobs in both mainstream and specialist settings across England and Wales.
Why NQTs should consider a SEND teaching job with Axcis
Full and part-time teaching and support work available
Gain SEND experience in a range of schools before deciding on your preferred area of the education sector
Develop your knowledge and understanding of SEND – become a more rounded education professional
Excellent training and development opportunities
Competitive rates of pay
Flexibility with level of commitment required
Permanent opportunities available which offer full induction support
What do other NQTs say about working for Axcis?
I registered with Axcis because my second placement school during my PGCE were not able to offer me a permanent post and I decided to explore special needs and find out whether this was a good option for my personal career path. I didn't have much SEN experience (just what my PGCE had covered), but my consultant at Axcis was great and asked me lots of questions about what I was looking for and how my current skills and experience could fit into a SEN setting. I did a few days of supply work at different schools and quickly learned that special needs schools can be very different to each other! I really enjoyed working at an MLD school and was surprised at just how quickly I fitted in. After a term of supply, the school offered me a permanent contract and are supporting my Induction. I couldn't be happier with how things turned out – thank you Axcis! Jenny, Primary Teacher
Sounds Interesting – what's next?
If you are interested in finding an NQT SEND teaching job with Axcis, you can either call your local branch for a chat, or you can register online – it takes just 5 minutes and one of our consultants will be in touch. You'll have a no-pressure chat about what you are looking for and what skills you can offer, and if we feel we can help you, and you feel that we are the right company for you, we will ask you to come in and have a registration interview. From there you could be out working as quickly as the next day! There is no charge for our service, so what do you have to lose?
Refer other NQTs and get a bonus of up to £250
It's worth noting that Axcis offer a generous referral bonus – so if you know any other friends who might be interested in a role with us, why not take a look at how it works, and refer them to us today? Once they've done 20 days work for Axcis, you'll get a handsome reward! Click here to find out more.